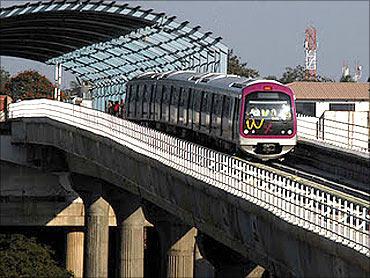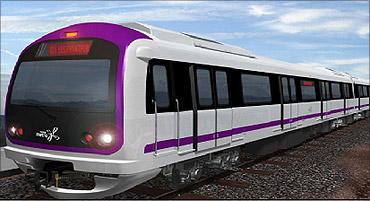 T
his is a dream come true for people in Bangalore. The IT capital's much awaited Bangalore metro rail service, 'Namma Metro' will start operations from 20 October 2011.
Image:
Bangalore's metro rail.
T
he ambitious Rs 6000 crore (Rs 60 billion) Bangalore Metro project will put an end to traffic woes in the city, making travel much easier and comfortable for commuters.
Image:
Bangalore's swanky metro rail.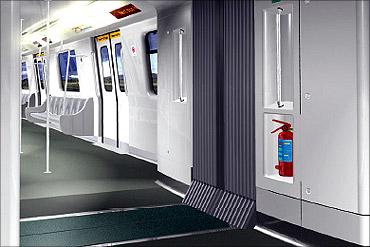 T
he Metro Rail will ease the traffic in the eastern parts of Bangalore city. The Reach 1 which connects Baiyappanahalli to MG Road will be inaugurated by the Union Minister for Urban Development, Kamal Nath.
Image:
Metro rail coach.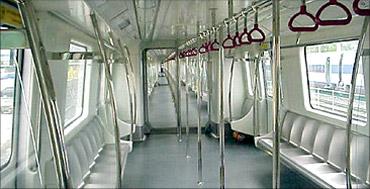 N
amma Metro will help reduce traffic in some of the busiest roads like the Old Madras Road, Whitefield and ITPB.
Image:
Metro rail coach.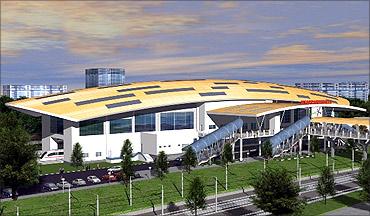 T
hough the speed on the 9-kilometre stretch between Baiyappanahalli and MG Road was scheduled to be 75 km per hour, it has now been reduced to 68 km per hour.
Image:
Baiyappanahalli station.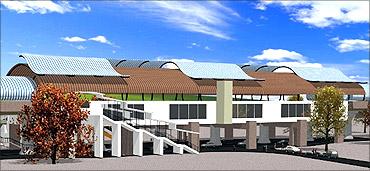 A
ride from Baiyappanahalli to MG Road will cost Rs 15. The Bangalore Metro Rail Corporation expects least 20,000 to 25,000 people to travel on the inaugural day.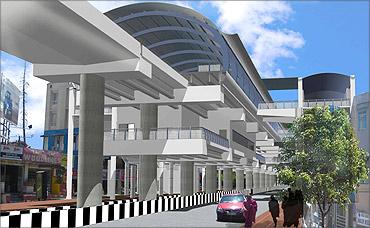 A
round 20,000 smart cards have already been sold, besides 3,000 tickets.
The number of passengers expected to travel on the metro everyday is estimated 16.10 lakh by 2021.
Image:
Southend circle station.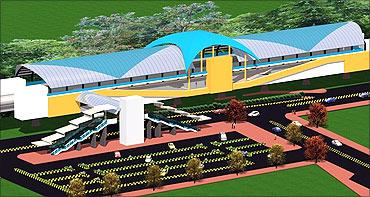 E
ach train will consist of three coaches (2.88 m wide) to start with. The train can accommodate a total of 1000 persons.
The trains will be Wi-Fi enabled, so passengers can use laptops on the move.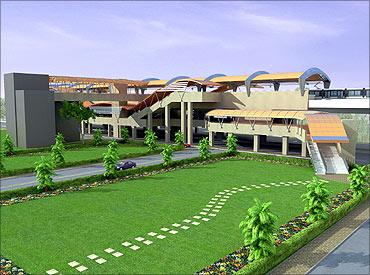 T
he train will have light weight modern coaches. Later, it will run six coaches - the carrying capacity of a six coach train will be 2068 passengers.
Passengers will also be able to communicate with the staff through a speaker system in case of an emergency.
Image:
Rajajinagar station.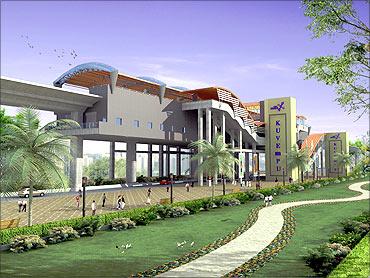 T
he coaches with stainless steel covering are air-conditioned and have automated doors.
Image:
Kuvempu road station.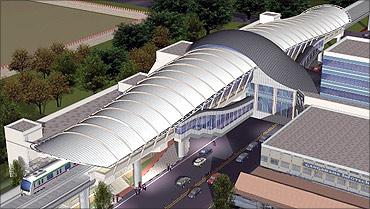 T
he East-West corridor will be 18.10 kilometres long, starting from Baiyappanahalli and terminating at Mysore Road terminal, going via Swami Vivekananda Road, Indiranagar, Halasuru, Trinity, Mahatma Gandhi Road, Cricket Stadium, Vidhana Soudha, Central College, Majestic, City Railway Station, Magadi Road, Hosahalli, Vijayanagar and Deepanjali Nagar.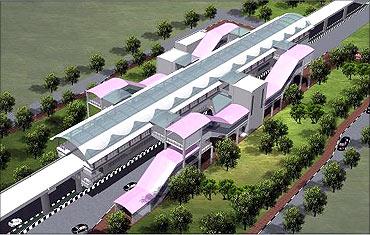 T
he 24.20 kilometres North-South corridor will begin at Nagadandra and terminate at Puttenahalli going via Mahalakshmi, Rajajinagar, Kuvempu Road, Malleswaram, Swastik, Majestic, Chikpete, City Market, KR Road, Lalbagh, South End Circle,Jayanagar and Puttenahalli.
Image:
Jayanagar station.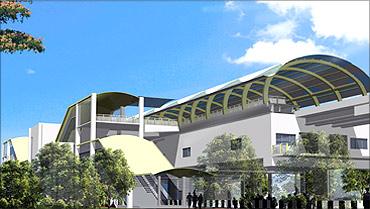 O
ut of the 42.30 km, 8.822 km. will be underground near City Railway Station, Vidhana Soudha, Majestic and City Market and most of the rest will be elevated.
Image:
KR Road station.

T
he construction work for Phase-1 of the project was scheduled to start in 2005 but was delayed as government changed in Karnataka in February 2006.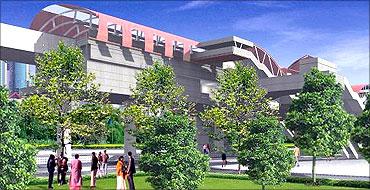 T
he project's feasibility became a bone of contention. Finally, on 25 April 2006 the Central approved the project.
Image:
Mahalakshmi station.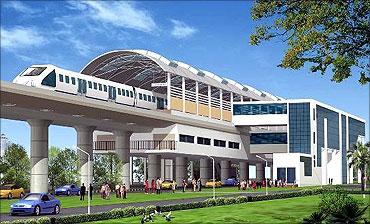 I
nitially, it was budgeted at more than Rs 5,400 crore ($1.2 billion). Later, it was revised to Rs 11,609 crore ($2.59 billion) crore for phase-I.
Image:
Toll gate station.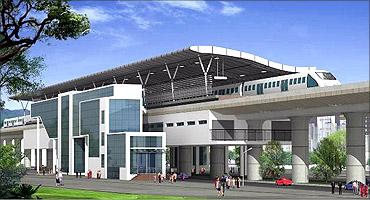 Vijayanagar station.

Indiranagar station.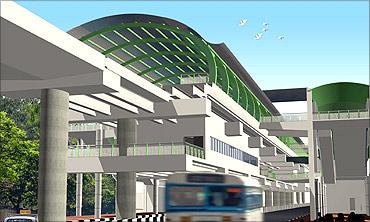 Lalbagh station.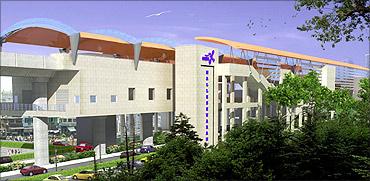 Srirampura station.
Image:
Srirampura station.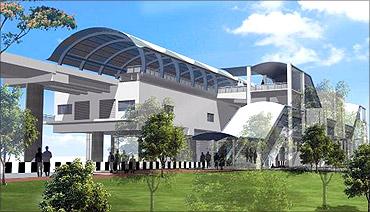 RV road terminal.
Image:
RV road termin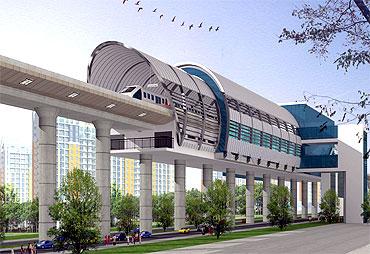 Deepanjali Nagar station.
Image:
Deepanjali Nagar.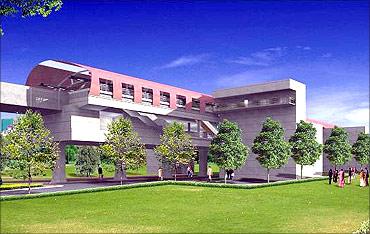 Sandal soap factory station
Image:
Sandal soap factory station.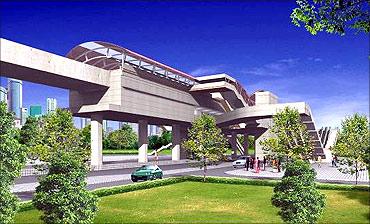 Yeshwanthpur station.
Image:
Yeshwanthpur station.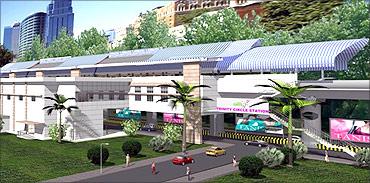 Trinity station.
Image:
Trinity station.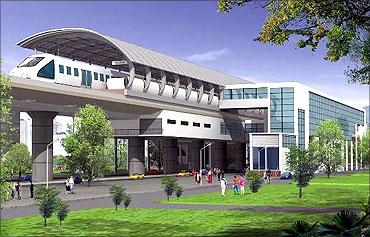 Magadi Road station.
Metro rail route...
Image:
Magadi Road.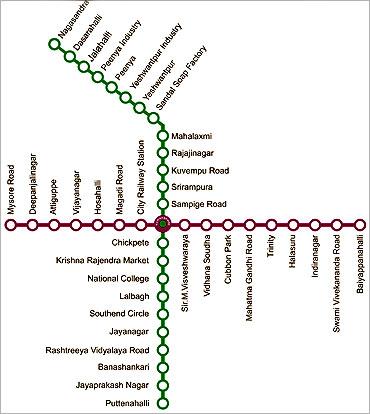 C
overing a span of 70 kilometres, phase II is an extension of all the four Reaches (Reach 1 to 4) and is expected to reduce road traffic by 35 per cent.
Additionally phase II will also have two independent lines – one from Jayanagar to Electronic City and the second from Nagavara to IIM-B, a total of 21 km of which around 15 km will be underground route.
The estimated project cost for Phase II is around Rs 25,000 crore ($5.58 billion)
Image:
Metro route