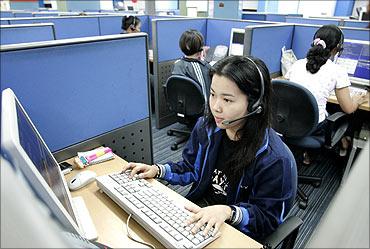 T
he Philippines has become the
business process outsourcing (BPO)
capital of the world, overtaking
India
as the number one player in the global business
outsourcing
market. The Indian public, used to the notion of the country being the undisputed leader in offshore services, has just learnt with some surprise that in the volume (voice or
call centre
) segment of the business process outsourcing (BPO) space, it has been outpaced by the Philippines.
Several factors, like a well-educated workforce, good language competencies and work ethic, have made the Philippines an attractive BPO destination.
Image:
Employees at a call centre in
Manila
.
Photographs:
Joseph Agcaoili/Reuters.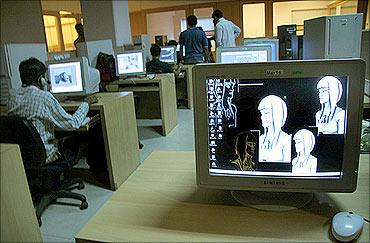 T
he Indian IT-BPO industry will not be similarly surprised as it has seen this coming for some time. While business process outsourcing has been dominated by call centres, the sector now covers a wide area of services like logistics, finance, accounting and software research and programming, computer-aided design, animation and graphic design.
Image:
Indian animation designers work on a production floor in Mumbai.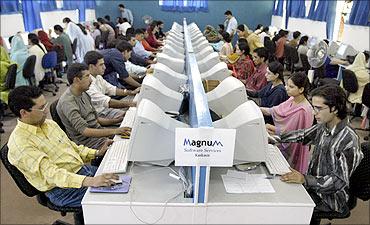 W
hile India still has a lead in the more complex outsourced services such as engineering, software design and programming, the Philippines is catching up at a fast pace. In fact, it has contributed to the process. 24/7 Customer, the country's leading independent BPO firm, opened its facility in the Philippines in 2005, Wipro in 2007 and TCS a few days ago.
Image:
A call centre employee.
Photographs:
Courtesy, 24/7 Customer.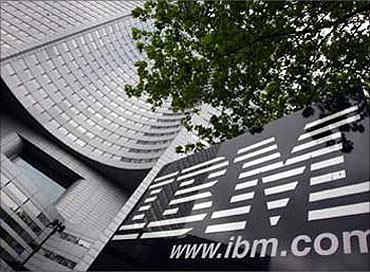 T
he Philippines industry association says the country now has a 350,000 call centre jobs, which will earn it $5.7 billion in export revenue, compared to India's 330,000 jobs and projected revenue of $5.5 billion. More significant is the annual Global Locations Trend report of IBM which says that in business support functions such as shared services and BPO, for the first time, last year the Philippines took over the global lead from India, added around 16,000 jobs through foreign investment in services, compared to India's 14,000.
Image:
IBM Daksh.
Photographs:
Reuters.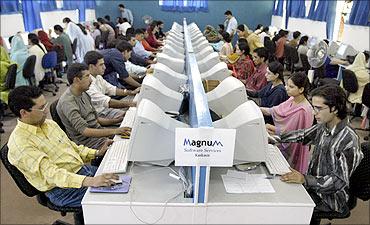 T
he likely future scenario is not any better for India. China is fast losing the label of being 'merely' the world's factory and Sri Lanka is emerging. Call centre work is low-value business and any firm worth its salt would try to get out of this segment. Indian BPO has, in fact, done so.
Image:
Kashmiris work at a business process outsourcing centre in Rangreth.
Photographs:
Reuters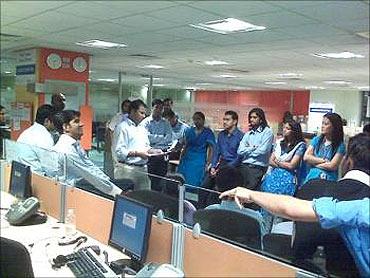 L
ast year (2009-10), it earned $12.4 billion in BPO exports with well over half coming from non-voice business. While reporting last year's BPO figures, Nasscom, the IT-BPO industry lobby, said Indian BPO was moving up the value chain to provide high-end services like business analytics and knowledge process outsourcing (KPO) like legal services.
Image:
24/7 Customer office.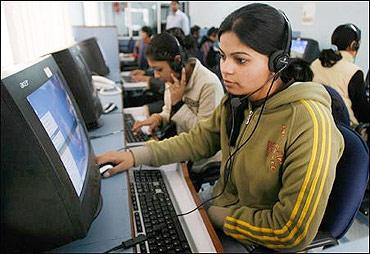 I
t is inevitable that as an industry matures and moves up the value chain, it will vacate the lower end of the business to newer entrants. And answering calls is not just low-value work but quite thankless. Customers prefer to hear an accent they can relate to and the advantage for the Philippines is that, as a result of its history, it has far greater cultural affinity with the United States than India.
Image:
Call centre executives.
Photographs:
Reuters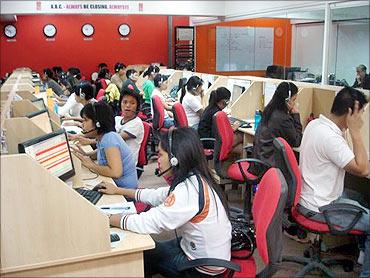 T
he Philippines has taken over the lead in the global ranking from India in terms of business support functions. While this approach is appropriate for individual firms, the government should see things differently. A major advantage for the Philippines is its far lower attrition rate than India's.
Image:
A call centre in Manila.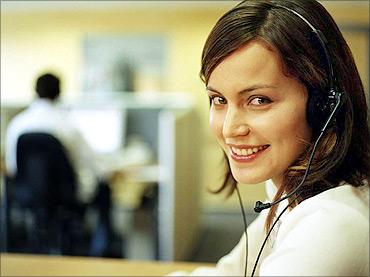 C
learly, there is a skills shortage in India as a result of which, even as there is high levels of unemployment among the young, firms keep trying to snatch away educated hands from each other by paying more. Thus, India is paying the price for its poor performance in skill development.
Image:
India needs to enhance skills.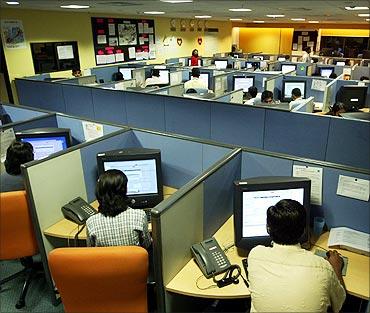 A
remedy is emerging with firms trying to shift focus to tier two and three cities where wages are lower, but that is not enough. A poor country like India should not look down on any reasonably paid job. The Indian industry also suffers from having to make up for poor infrastructure like arranging for captive power and staff transportation.
The loss of leadership in voice services should ring alarm bells for the government.
Image:
Indian employees at a call centre provide service support to international customers.
Photographs:
Reuters.